Julie Bunny Must Die!
January 11th, 2011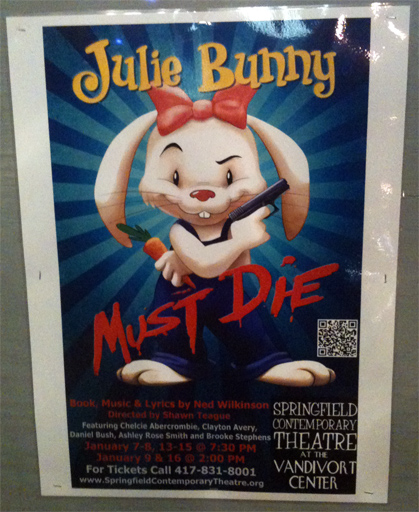 Last Saturday I went to see the hilarious play "Julie Bunny Must Die", about a cartoonist who's getting pulled in all directions by his job, his girlfriend, and his comic about a bunny who happens to be an international spy. There are lots of pop culture, internet culture, and furry culture jokes in it. Chef Albertson attacks Julie Bunny with a Slap Chop! Now THAT'S comedy.
The play will continue through Jan. 16th, and is showing at the Vandivort theater in Springfield, MO. Go see it if you're in the area, or even if you're not, like me. I really hope this play makes it big. For tickets and info, visit http://www.vctheatre.com.
They encouraged photos and video, and I happened to have an iPhone 3GS on hand, so here are some videos of my favorite songs from the play…

If no videos are visible, click the title of this post to go to the webpage.