New ride at Kennyland! And pins!
September 1st, 2010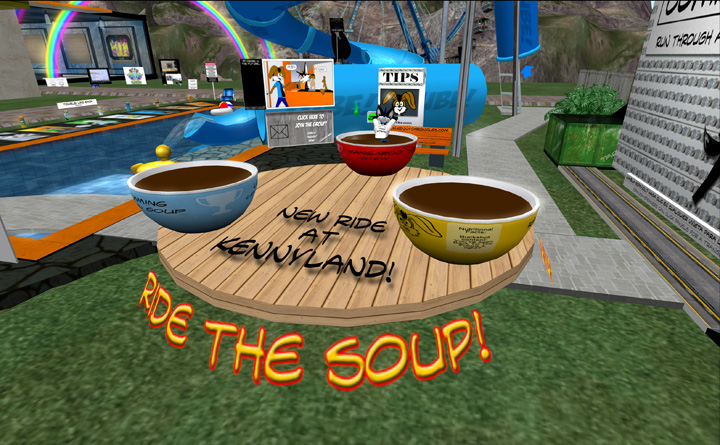 Ride the soup!!!
This ride is inspired by that one comic where Kenny was eating lemming soup. Kenny's closest friends are also herbivores, so add in soups for their species and bam, you get a ride similar to the spinning teacups ride in the Disney theme parks.
It's especially fun when you enter mouselook mode.
With this ride comes another feature: Collectible lapel pins! There are 3 so far.
1. Ride the soup for 5 minutes and a pin icon pops up that you can click on to receive it. The icon stays up for 1 minute and shows up again every 5 minutes. This is the pin of Kenny's lemming girlfriend, Death.
2. The freebie cart now has a pin of Rufus, Kenny's kangaroo friend. If you're a member of the group, this was sent to you.
3. If you pay the tips booth any amount, you receive a Fuego Hare pin. I figured this would be appropriate since Fuego's the one in the booth. If you don't have any L$ in your account, that's fine, you can request a pin by IMing Kenny Panache.
I have even more plans waiting in the wings. For instance, that picture of a ferris wheel in the background is just the start of a collaboration I'm in.