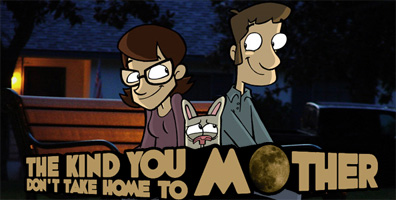 World-traveler and cartoonist Ryan Estrada created a comic about a werewolf(She's the one on the left), but this story occurs BETWEEN full moons. The comic makes great use of situational comedy, showing the guy bringing a girlfriend home so she can meet the parents, who seem very disapproving of her being a werewolf. The comic is an 8-page complete story, so don't worry about it taking much of your time.
Here's the big news, though: the comic is being turned into a movie! Ryan and his production team are independently creating it, and they need your help. If you help fund part of the movie, you can get anywhere from a mention in the film credits to a cameo, all the way up to having the world premiere right in your living room. There's even an option to have your DOG featured in the movie, since the main character is a professional dog-walker.
I really want to see this movie finished. Ryan has done animation before, and has drawn comics for a significant portion of his life. He has the artistic chops to do this. If you contribute, tell them you heard about it here and a portion will be contributed to Kenny Chronicles as well! In fact, if this post leads you to get mauled by a werewolf, I'll also contribute to have my name listed in the credits.
Whether you pay to have a cameo shot or not, read the comic. The link is right in their sidebar. I wouldn't be making this post if there wasn't a funny comic to link to. It's worth reading.
www.TheKindYouDontTakeHomeToMother.com